Preliminary announcement of results
The Directors of Great Portland Estates plc announce the results for the Group for the year to 31 March 2014.
Highlights1 for the year:
Strong growth in both capital and rental values, outperforming London market
Portfolio valuation up 18.7%2 in year (developments: 31.4%2) and 5.1%2 in Q4 
12 month Total Property Return of 22.5% outperforming IPD's Central London index of 20.0%, driven by capital return of 19.2% vs 15.6% for IPD Central London (West End offices capital return of 18.7% vs 16.9% for IPD) 
Rental value growth of 8.2%2 (7.2% West End offices, 12.1% West End retail) vs 6.7% for IPD Central London 
Excellent financial performance
EPRA3 NAV per share of 569 pence, up 27.6% in year and 8.0% in Q4 
Net assets of £1,931.9 million (March 2013: £1,537.7 million) 
EPRA3 profit before tax of £38.4 million, up 73.0% on 2013. EPRA3 earnings per share of 11.0 pence up 59.4% 
After revaluation surplus, reported profit before tax of £422.2 million (March 2013: £180.6 million) 
Total dividend per share of 8.8 pence (2013: 8.6 pence), up 2.3% 
Development programme delivering significant surpluses – more to come
Three schemes completed (487,100 sq ft), total profit of £103.9 million, profit on cost of 53.3% 
Two committed schemes (202,800 sq ft), 69% pre-let, expected profit on cost of 40.7%, completions from summer 2014 
760,000 sq ft of new planning consents achieved, 100% in West End 
Further seven near-term schemes (828,100 sq ft), 83% in West End including Rathbone Square, W1 
Total development programme of 2.2 million sq ft covering 50% of existing portfolio, 77% in West End, 55% with planning permission 
Record leasing year – beating ERVs
84 new lettings (422,300 sq ft) securing annual income of £25.9 million (our share: £20.8 million), including pre-lets of £12.1 million p.a. (our share: £10.2 million) 
Market lettings were 3.7% ahead of valuers' March 2013 ERV (4.2% excluding pre-lets) 
Vacancy rate of 3.7% (March 2013: 2.3%), average office rent only £42.00 sq ft, reversionary potential of 22.6% 
Since year end:
o Lettings of £3.3 million, including £1.5 million at 240 Blackfriars Road, SE1
o Further £3.1 million under offer, 4.3% premium to March 2014 ERV 
Disciplined and profitable capital recycling with selective acquisition activity
Disposals of £422.5 million (our share: £269.0 million) at an average 9.5% premium to March 2013 book value, including creation of new JV at Hanover Square Estate 
Purchase of Oxford House, W1 (79,000 sq ft) for £90.0 million increases total development potential at east end of Oxford Street to c.690,000 sq ft 
Robust financial position with low leverage and high liquidity
Gearing conservative at 30.3%, loan to property value of 25.7%, weighted average interest rate low at 3.5% 
Significant cash and undrawn facilities of £508 million, weighted average drawn debt maturity of 6.9 years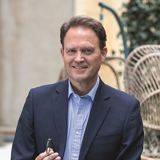 With London's growth outpacing a resurgent UK economy, we can expect conditions in our markets to strengthen further; employment levels are on the rise whilst order books are growing, suggesting that the space needs of the Capital's businesses will follow suit. With the current and prospective supply of space to let in central London remaining tight, we can expect rents to continue growing.
Following record turnover in 2013, demand for London assets continues unabated. Having acquired 54% of the Group's properties since 2009 at attractive prices, we believe we can generate higher returns from investing within our portfolio than from competing in today's crowded market. As a result, we will be focused on generating organic growth from the numerous asset management and development opportunities in our 3.3 million sq ft central London portfolio. Central to this growth will be our 1.0 million sq ft committed and near-term development programme, delivering well designed, new properties into an undersupplied market and building on this year's 31.4% capital growth.
With a deep and talented team, plentiful low cost finance and supportive market conditions, we are confident that we will continue generating attractive returns for shareholders."
1 All values include share of joint ventures unless otherwise stated 
2 On a like-for-like basis 
3 In accordance with EPRA guidance