London's future relies on our actions today. The climate is changing and it's impacting our city now. ​As our customers and communities seek solutions and support, the time is now to make London and its businesses more climate resilient.​
At GPE, we're working with our customers and other stakeholders on sustainability. Not only because it's our responsibility to play a part in creating a more sustainable city, but also because our customers want to live and work in a more climate resilient society. ​
You want healthier, more sustainable spaces where everyone can thrive, because employees want to know you can live up to their expectations around green and healthy workspaces. ​
You want to reduce your carbon footprint, and fulfil your increasingly ambitious sustainability strategies.​
And you want your spaces to be resilient against the physical impacts of climate change and changing legislation.​
The Time is Now
Our Sustainability Statement of Intent, The Time is Now, will ensure we address transitional risks of climate change, and deliver on our net zero ambitions by 2030.​
While our new Brief for Creating Sustainable Spaces details the integration of climate resilience across our entire business from design to construction and from fit out to operation.
We understand the importance of your sustainability ambitions and we want to work in partnership with you to ensure you achieve them.​
Our intent takes a simple and flexible approach. And flexibility is key. ​
As your sustainability ambitions evolve over time, so will our strategy to ensure we can provide the energy-efficient, healthy, inclusive and climate resilient spaces you deserve.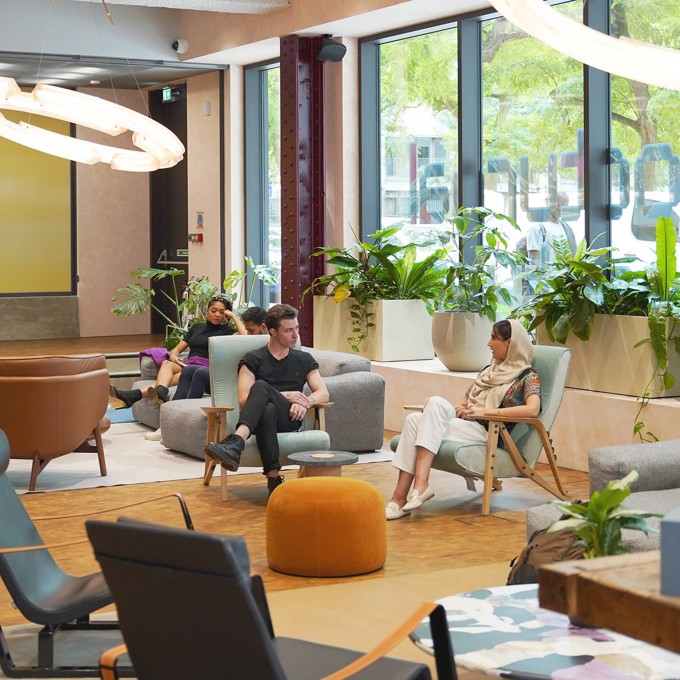 We're taking action
We are integrating climate resilience across our entire business, designing our buildings using nature-based solutions and ensuring they meet evolving legislation.
Circular thinking is firmly embedded in our design process as we take a 'retain, repurpose, reuse' approach, ultimately maximising recycled content and minimising the use of new materials.
And opportunities for innovation are embraced throughout the lifecycle of our spaces and buildings. Using Digital Twin technology, we're transforming processes from design to construction and from fit out to day-to-day operation.
Putting the customer at the heart of everything we do
Working closely to meet your needs

As we own and manage our spaces, you can be sure your Customer Experience Manager has been involved in the design of your space and will work jointly with you to minimise your carbon emissions and to ensure climate resilient and healthier, more inclusive spaces. ​

Sharing actionable information

Because innovation is core to improving energy efficiency, we will provide you with the information you need to manage your sustainability impact – making it easy to share your performance with your employees.

Accelerating 'retain, reuse, repurpose'​

You can have confidence that when you move into your space at GPE, that we will have maximised the use of recycled content and minimised the use of new materials.

Increasing the impact of nature​

We know nature is important to you and can support everyone's health and wellbeing, improve mental health and enhance climate resilience. So, we're bringing more nature to our buildings, terraces, public spaces and communities, expanding your green spaces, both inside and out.

Protecting and enhancing local communities​

You care about the communities your workspaces are in and we do too. So, we are bringing in social enterprises, employing apprentices and working with London charities that focus particularly on inequity.