Annual Results – successful strategy is delivering
The Directors of Great Portland Estates plc announce the results for the Group for the year to 31 March 2015. Highlights for the year:
Strong capital value growth - driven by rental growth and development surpluses 
Portfolio valuation up 18.0%1 in year (developments: 28.2%1) and 3.1%1 in Q4
Rental value growth of 10.3%1

 (10.0% offices, 11.4% retail) v 9.5% for IPD Central London; 3.1% in Q4

12 month capital return of 18.8% v 20.3% for IPD Central London Index, with Total Property Return of 21.5% v 24.3% for IPD Central London; 5 year capital return of 96.8% v 76.8% for IPD Central London
Excellent financial performance - increased NAV and earnings
EPRA2

 NAV per share of 709 pence, up 24.6% in year and 4.3% in Q4

Net assets of £2,390.9 million (March 2014: £1,931.9 million)
EPRA2

 

profit before tax of £45.1 million, up 17.4% on 2014. EPRA2 EPS of 12.7 pence, up 15.5% 
After revaluation surplus, reported profit before tax of £507.4 million (March 2014: £422.2 million) 
Total dividend per share of 9.0 pence (2014: 8.8 pence), up 2.3% 
Expanded development programme delivering surpluses – long, flexible pipeline
Two schemes completed (296,800 sq ft), total profit of £69.8 million, profit on cost of 54.9%
Six committed schemes (626,100 sq ft), 30% pre-let or pre-sold, 100% in West End and 95% at east end of Oxford Street. Expected profit on cost of 18.2%
375,300 sq ft of new planning consents with positive progress preparing six near-term schemes (548,600 sq ft), 76% in West End, 100% near Crossrail stations3
Committed and near-term schemes equate to 25% of core West End speculative deliveries over next 4 years 
Major development opportunity from additional 12 uncommitted pipeline schemes (1.3 million sq ft)
Total development programme of 2.5 million sq ft  covering 54% of existing portfolio, 69% in West End, 45% with planning permission
Continued successful leasing activity reflecting quality of portfolio - 6.0% ahead of ERV
76 new lettings (367,600 sq ft) securing annual income of £21.5 million (our share: £17.4 million), including £3.7 million of pre-lets and £9.6 million development lettings 
Market lettings were 6.0% ahead of valuers' March 2014 ERV 
Vacancy rate of 2.0% (March 2014: 3.7%), average office rent only £45.50 sq ft
Reversionary potential of 28.4% (March 2014: 22.6%)
Further £2.3 million of new lettings currently under offer, 1.9% premium to March 2015 ERV
Profitable capital recycling and selective bolt-on acquisition activity
Disposals of £343.6 million in year at an average 11.0% premium to March 2014 book value, including £223.1 million of exchanged residential sales at Rathbone Square, W1
Sale of 95 Wigmore Street, W1 by GWP joint venture in April 2015 for £222.4 million (net initial yield of 3.4%), 16.4% premium to March 2015 book value, crystallising profit on cost of 105%
Acquisitions of £37.1 million (average capital value of £526 per sq ft) in year; in April 2015, secured full ownership of City Tower and City Place House, EC2 through purchase of JV partner's 50% interest in GSP (£608 per sq ft capital value and 5.3% yield on contracted rent roll)
Financial strength – firepower to fund further organic growth 
Loan-to-value of 21.8%, low weighted average interest rate of 3.7%, drawn debt 96% fixed or capped
Cash and undrawn committed facilities of £442 million, capex to come4

 of £533 million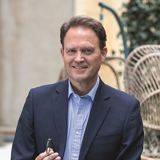 "...
London's economy has continued to outpace that of the rest of the UK and we can expect this to continue, assuming the inevitable uncertainty surrounding the outcome of the proposed EU referendum does not damage London's appeal as a business capital; both the risk appetite and employment intentions of the Capital's businesses remain expansionary and we anticipate their space needs to follow suit. As a result, with falling vacancy rates and the supply of new space to let in the near-term remaining extremely tight, we can look forward to further increases in rents.
In the context of these supportive market conditions, the Group's strategic positioning feels right: having bought more than 59% of our properties at opportune prices resulting from the financial crisis, we are in execution mode, delivering organic growth through developing, refurbishing and growing income across our 3.6 million sq ft portfolio.
Our 1.2 million sq ft committed and near-term development programme is the largest we have ever undertaken and accounts for circa 25% of all core West End speculative deliveries over the next four years. It contains some exceptional schemes, including a major contribution towards the regeneration of the east end of Oxford Street. In addition, our long, flexible pipeline of future projects contains many enticing prospects, often near to Crossrail stations, stretching well into the next decade.
With a deep and talented team, plentiful low cost finance and supportive market conditions, we are confident that we will continue generating attractive returns for shareholders."
¹ On a like for like basis, including Joint Ventures 
2 In accordance with EPRA guidance
3 Within 800 metres of nearest Crossrail station
4 At committed and near-term development schemes