Great Portland Estates plc ("GPE" or "Group") today publishes its trading update for the quarter to 30 June 2015.
Continued successful leasing and asset management activity
17 new lettings (34,900 sq ft) signed generating annual rent of £2.4 million (our share: £2.4 million), including the remaining retail space at Walmar House, W1; 0.8% above March 2015 ERV (generating 13.0% growth since June 2014) and 49.5% ahead of previous passing rent
Five rent reviews settled securing £0.8 million per annum; 47% above previous passing rent
Low vacancy rate of 2.4% (31 March 2015: 2.0%), low average office rent passing of £46.40 per sq ft
Good progress on developments; extensive and flexible pipeline of opportunity
Six committed schemes (626,100 sq ft), 100% in West End, all expected to complete in next 24 months
Good progress across further six near-term schemes (549,900 sq ft), all with potential starts in next 24 months; vacant possession achieved at 148 Old Street, EC1 ahead of expected start later this summer
Total capex to come at committed and near-term development schemes of £514.1 million
Planning application submitted at Mortimer House, W1 for 23,000 sq ft refurbishment
Major development opportunity from additional 12 uncommitted pipeline schemes (1.3 million sq ft)
Total development programme of 2.5 million sq ft covering 54% of the existing portfolio, 69% in West End, 45% with planning permission 
Capital recycling continues
Completed sale of 95 Wigmore Street, W1 by GWP joint venture for £222.4 million (net initial yield of 3.4%), 16.4% premium to March 2015 book value, crystallising profit on cost of 105%
Completed purchase of JV partner's 50% interest in GSP securing full ownership of City Tower and City Place House, EC2 (£608 per sq ft capital value and 5.3% yield on contracted rent roll) 
Strong financial position
Loan-to-value of 22.5%1, weighted average interest rate of 3.6%, drawn debt 91% fixed or capped
Cash and undrawn committed facilities of £383 million, low marginal cost of debt of 1.6%
Deep and talented team
Andrew White and Marc Wilder appointed to the Group's Executive Committee as Development Director and Leasing Director respectively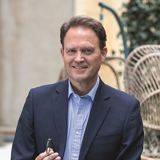 London's economy continues to grow, supporting good levels of demand for the limited quantity of available office and retail space, particularly in our core West End market. As a result, our outlook remains positive: we can expect healthy occupier interest to generate both pre-lettings and higher rates of rental growth compared to last year; our expanded development programme will continue to deliver attractive returns for shareholders; and our balance sheet strength will allow us to exploit our many portfolio opportunities to the full."
1. Based on property values at 31 March 2015 pro forma for sales and purchases