The Directors of Great Portland Estates plc announce the results for the Group for the six months ended 30 September 2015. Highlights for the six months:
Continued strong growth in both capital and rental values, outperforming London market
Portfolio valuation up 10.5%2 since 31 March 2015 (developments: 18.3%2)
Six month capital return of 11.9% outperforming IPD Central London of 8.7%, with total property return of 13.6% v 10.4% for IPD Central London; five year capital return of 104.4%, 21.1% ahead of IPD Central London

Rental value growth of 6.5%2 (6.7% offices, 5.9% retail) v 5.6% for IPD Central London
Rent roll growth of 3.8% over six months
Excellent financial performance with increased NAV and EPS
EPRA3 NAV per share of 808 pence, up 14.0% over six months
Net assets of £2,746.7 million (31 March 2015: £2,390.9 million)
EPRA3 profit before tax of £24.3 million, up 15.7% on 2014. EPRA3EPS of 6.9 pence, up 16.9%

After revaluation surplus, reported profit after tax of £371.0 million (2014: £246.5 million)
Interim dividend per share of 3.6 pence, up 2.9%
Three new committed schemes; largest ever development programme delivering significant surpluses
Nine committed schemes (853,200 sq ft, 24.0% of existing portfolio by area), up from six in May, 81.6% in West End, 53.5% pre-let or pre-sold, expected profit on cost of 25.2%
Good progress across further two near-term schemes (314,100 sq ft), both in West End
Major development opportunity from further 12 uncommitted pipeline schemes (1.3 million sq ft)
Total development programme of 2.5 million sq ft, covering 54.0% of existing portfolio, 69.0% in West End
Further 430,000 sq ft in refurbishment programme
Strong leasing activity ahead of ERV, including record pre-letting at Rathbone Square, W1
29 new lettings (288,900 sq ft) securing annual income of £20.8 million (our share: £20.8 million), including pre-lettings and development lettings of £17.5 million

Pre-letting of all the office space at Rathbone Square, W1 to Facebook (£16.9 million, 7.5% above valuers' March 2015 ERV)
Market lettings were 6.5% ahead of valuers' March 2015 ERV
13 rent reviews settled securing £1.9 million per annum, 57.0% ahead of passing rent
Vacancy rate at 3.6%, average office rent only £46.90 sq ft, reversionary potential of 32.3%
Further £8.9 million of lettings (our share: £8.1 million) currently under offer, 17.2% ahead of March 2015 ERV
Disciplined and profitable capital recycling
Sales of £116.9 million, including 95 Wigmore Street, W1 for £222.4 million (our share: £111.2 million, 16.4% ahead of March 2015 book value)
Secured full ownership of City Tower and City Place House, EC2 through purchase of JV partner's 50% interest in GSP (£608 per sq ft capital value)
Financial strength to fund further organic growth
Gearing of 24.5%, loan to property value of 20.2%, cash and undrawn facilities of £369.7 million
Weighted average interest rate only 3.6%, drawn debt 88% fixed or hedged
Total capex to come at committed and near-term development schemes of £513.3 million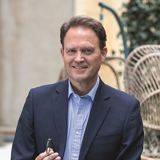 "...
Today we are in execution mode, focussed on generating organic growth through developing, refurbishing and growing income across our 3.6 million sq ft portfolio. Fundamental to our continued success is London's economic prosperity. Despite elevated levels of economic uncertainty since the summer, the employment intentions of the Capital's businesses remain expansionary and their space needs are following suit. Vacancy rates are now at record lows in the West End and, with much of the inventory of space under development already pre-let, we can look forward to further increases in rents.
In our investment markets, there remains a surfeit of buyers over assets for sale but we expect macro concerns to reduce investors' appetite for lesser quality assets, particularly where prices have run ahead of the rental growth on offer. Demand for prime properties remains robust.
In the context of these supportive market conditions, we expect to continue delivering significant organic growth across the business; our 1.2 million sq ft committed and near-term development programme is the largest we have ever undertaken and includes some of the West End's most exciting projects; our flexible future pipeline contains a further 1.3 million sq ft of enticing prospects stretching well into the next decade; and with reversionary potential of 32%, off average office rents of only £47 per sq ft, and plentiful low-cost financing, we have much to aim for and maintain our confident outlook."
1 All values include share of joint ventures unless otherwise stated
2 On a like-for-like basis       
3 In accordance with EPRA guidance


The live presentation of Great Portland Estates plc's 2015 half year results with slides and streamed sound will start at 9.00 am today. Alternatively you can listen to the presentation via a conference call facility. Should you choose the latter option, a pdf of the slides will also be available.
Conference call-dial in:
UK: 0808 109 0700 (freephone)
International: +44 20 3003 2666