More than 58 artworks from 14 countries around the world transformed London's architecture and streets as part of Lumiere London. GPE was proud to sponsor the event for a second year, helping to transform the city into a dazzling nocturnal art exhibition attracting over 1.5 million visitors.
GPE supported 'Frictions' by Mader Wierman, displayed at 103-113 Regent Street, W1. A new commission from an architectural duo, who have worked together across the world since 2014, celebrated the architecture of the building through geometrics. As the piece moves, the building itself appears to twist and buckle before returning to its original shape. The installation was accompanied by music composed by Dave Dinger.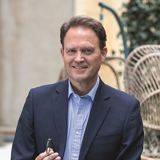 The free festival ran over four days, with visitors traversing the pedestrianised city centre and taking in sites across six city destinations: London's West End, King's Cross, Mayfair, Fitzrovia, Westminster & Victoria, and South Bank & Waterloo. Produced by arts charity Artichoke, the UK's largest producer of art in the public realm, and commissioned by the Mayor of London, the festival is the capital's largest art event.